Have a read if you are sharing your web blogs onto your social media, things are changing. Thanks to Yoast for sharing this info.
This has just come across my desk and as many of my clients have WordPress sites and active social media feeds, thought it would be of interest. Some time ago, Facebook announced that it would change the way it handles embeds on other sites. From October 24, you can no longer simply paste your links in WordPress to make your Facebook and Instagram content appear on your site. Because of this matter, WordPress has to drop support for the Facebook oEmbed API. They suggest you change your Facebook account to a Facebook developer account and register an app to get an access token. Luckily, there are easier ways to keep your embeds working.
What will happen?
Up until now, you could simply paste a link to a Facebook or Instagram post in your WordPress post. WordPress would take that URL and automatically turn it into a nice looking embed. THIS IS NO LONGER POSSIBLE.  Not doing anything might mean your current embeds stop working as well. There's a chance some of the content you've embedded content on your pages breaks.
Why is this happening?
There is an open standard to make sure embeds work well everywhere and that is called oEmbed. By using this, every platform can authenticate shared content in a similar way. Unfortunately, Facebook will now drop support for oEmbed and require users to use its own API's.
That's all fine, but WordPress as a platform can't follow that move. WordPress cannot sign you up for that Developer account and register itself as an app. WordPress can't claim ownership over that app, so that's why this feature will be dropped from core in WordPress 5.5.2.
So by now, your Facebook and Instagram embeds will probably stop working and you will need to take the necessary steps to prevent this from happening — and to keep that easy way to embed your Facebook and Instagram content on your WordPress site.
What can you do?
To keep everything working, Facebook would really like you to put in the effort. Their solution is for you to sign up for a Developer account, register an app, add an oEmbed Product to that app, create an access token, et cetera, et cetera.
As you can see, that's simply not a viable option for most people. So, what are your options to get embeds working like they used to?
Use Facebook's method, which is complicated and messy.
Use Smash Balloon's updated  Facebook and Instagram plugins. These plugins fix the oEmbed issue, while keeping all your existing content working. The free versions of these plugins work well, but the paid Pro versions have many more features should you need them.
Use JetPack: For Jetpack 9.0, the development team worked with Facebook to provide a simple way to make everything work and to keep it that way. All you need to do is connect your site to Jetpack.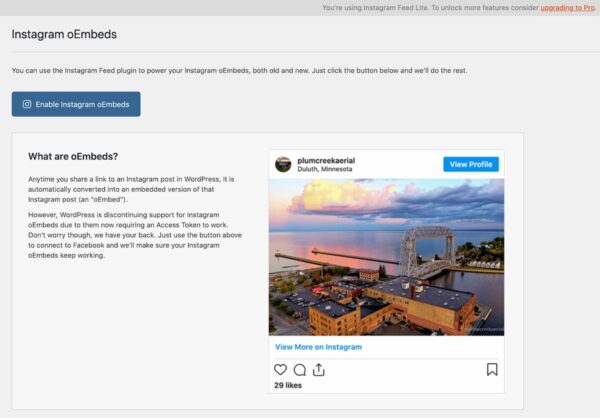 Please follow and like us: